What's better than putting on one of your handmade rugs, jumping down on the couch, and enjoying a batch of pumpkin treats? This past weekend the kids and I spent a lot of time with pumpkin. Between picking them at the patch and carving them for the front porch, we were in pumpkin heaven. So it only made sense to get in the kitchen and make some pumpkin fun in there too.
I was digging through my stash of Wilton baking pans and ran into the Ice Cream Cookie Bowl pan that I had completely forgotten about. Turns out, it's pretty darn perfect for making a realistic shaped pumpkin when filled with Rice Krispies Treats.
To make these, all you need is your favorite Rice Krispies Treats recipe, the Wilton Ice Cream Cup Pan and a few small helpers eager to celebrate Halloween. Alternatively, if you don't have this pan, you could always just rolls the treats into a ball with your hands.
While you're melted the marshmallows and butter, add a little orange or red/yellow to create a nice bright orange color.
(My favorite way to make Rice Krispies Treats: 6 TBS butter slightly browned, a splash of vanilla extract, 10.5 oz mini marshmallows, 6 cups of Rice Krispies cereal)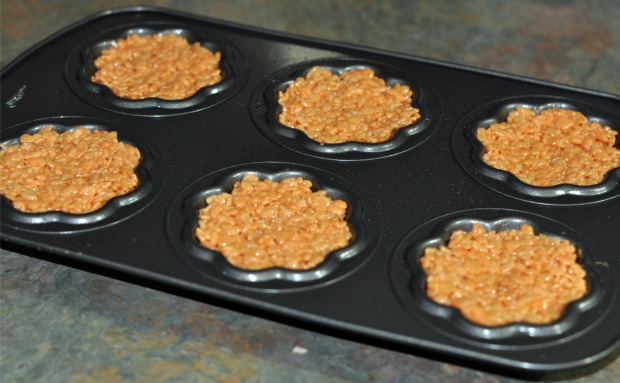 Once the molded treats cool, you can place two of them together to create a pumpkin shape.
Use a little green cookie icing to draw on some vine squigglies.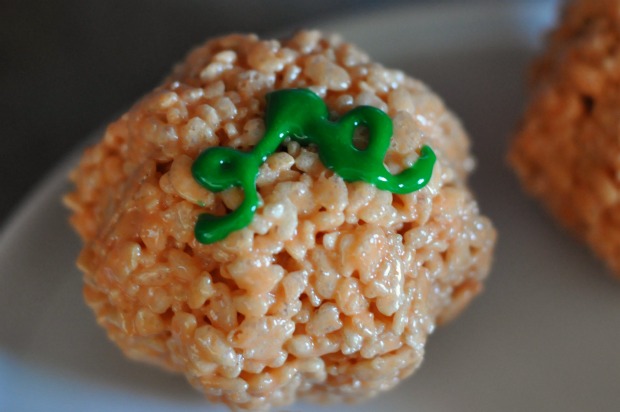 A tootsie roll on top makes a great looking stem.
You can eat the Pumpkin Rice Krispies Treats plain or draw on Jack-o-Lantern faces with black cookie icing.
You May Also Like