This past weekend, we really got a chance to enjoy the nice weather after days and days of clouds and cold temperatures. To enjoy and celebrate the beautiful spring temperatures, we had a little family cookout with a special guest ….the 35th anniversary limited-edition blend of KC Masterpiece® Kansas City Classic barbecue sauce. My husband, being a total lover of the grill and BBQ sauce had no objections and even and took over the grill while I prepared a very special side dish.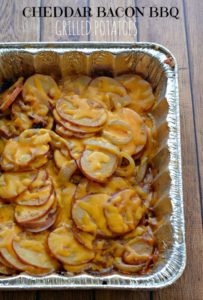 I took one of our favorite grilled potato side dish recipes and gave it a bold and flavorful update with loads of bacon bits, cheddar cheese and a generous helping of KC Masterpiece® Kansas City Classic barbecue sauce. It adds a rich and bold flavor to these grilled potatoes that pairs perfectly with grilled chicken or kabobs.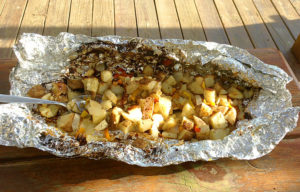 After about 40 minutes on the grill, the potatoes come out nice and tender with the cheese melted all over and the BBQ sauce blended in nicely.
If you like this I recommend you to check out our sausage cheddar biscuits and s well!
Ingredients
6-8 red potatoes. Slice them up with a very sharp knife
½ sweet yellow onion
1 cup bacon bits
2 cups shredded cheddar cheese, divided
⅓ cup KC Masterpiece® Kansas City Classic barbecue sauce
Instructions
Slice potatoes into ¼ inch thick slices and slice onion into ½ inch slices.
Spray a foil baking dish with non stick cooking spray.
Layer potatoes and onions in baking dish. Top with bacon bits, half of the cheese and bbq sauce.
Cover tightly with a double layer of aluminium foil.
Grill over medium heat for 30-45 minutes. Be sure to give the potatoes a shake every 5 minutes or so to redistribute them and prevent burning.
Remove from the grill, set foil aside and top with remaining cheese. Add the foil back to the dish to allow the cheese to melt for 10 minutes and serve.
Similar Articles